Comparison of 3-400Z & 3-500Z Tubes
• Minimum Order: $25.00 in Parts
• Product Returns are subject to 15% Re-stock fee.
 > 

Comparison of 3-400Z and 3-500Z Tubes

EIMAC 3-400Z

The Original grounded grid triode introduced in the early 1960s. Now obsolete part number. Power dissipation: 400w.


EIMAC 3-500Z
Later version of 3-400Z having larger fins for the increased power dissipation of 500w. Slightly larger body requires minor changes to fit where 3-400s were used. Requires heat dissipating connector.


3-500ZG
Graphite anode version of 3-500Z. Anode dissipation approximately 600w (additional air flow may be required). Graphite anode provides a more rugged tube. Produced by Eimac, RF PARTS, Taylor, Amperex (3-500Z/8802), etc.


3-500C
Generic Chinese Graphite tube.


3-600Z
Proposed Russia tube. Only prototypes were produced. No production, project was discontinued due to technical problems.






Comparison of 3-500Z Manufacturers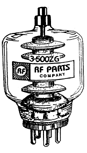 EIMAC
Eimac was the original designer of 3-500Z line, and is generally considered the "standard" for comparison. Eimac no longer produces 3-500Z or other glass tubes.
AMPEREX
An excellent graphite anode tube of quality equal to Eimac 3-500ZG. Late production made in France, marked 3-500Z /8802.
1 Year Limited Warranty from RF Parts.
RF PARTS
"RFP" line is the best quality graphite anode tube in the Eimac® format. Virtually an exact copy of the Eimac 3-500ZG in both mechanical and electrical characteristics. RF Parts 3-500ZG easily represents the best value for the price. All tubes receive 100% RF Partsâ testing. 2 year Limited Transmitter Tube Warranty (2nd year prorated). Made in China.
TAYLOR
First Quality Tube at a Competitive Price. The Taylor 3-500ZG receives the full 100% testing and inspection as the RFP tube. One year Limited Transmitter Tube Warranty. Made in China.