572B Tubes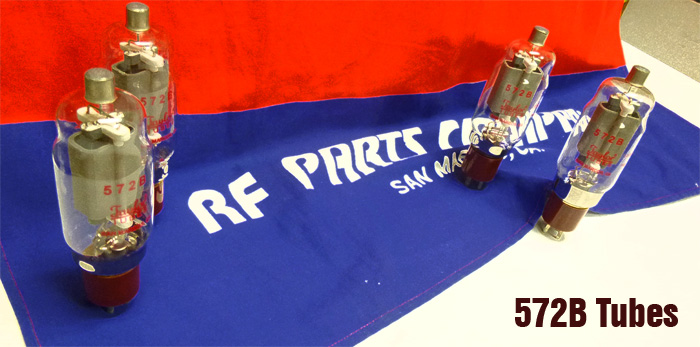 When we have stock, the tubes will show up below and will be able to be added to the cart for purchase. If there are no tubes below, then we are out of stock.

December 19, 2014
PLEASE READ FULLY BEFORE CALLING
GOOD NEWS!
THE NEW RF PARTS 572B TUBE HAS ARRIVED.
RF PARTS will not accept new 572B orders until March, 2015.
As we have stock available, it will show up on our website.
It is there where you will place your order for 572B tubes.
Until further notice, RF PARTS will not accept back orders for this item.
Early 2014 orders are being shipped now in chronological order based on date order was placed.
Terry, in our sales department, will be contacting our customers as stock is available.
For the past several weeks we have been proof testing our first production run.
Tests indicate that these new tubes will compare favorably with the last U.S. made tube, the 1989 Cetron 572B.
Tube dimensions and power gain seem to be carefully controlled during manufacture.
However, RF PARTS will continue to do full lab testing on the 572B, as we do with all our transmitting tubes.
Regular shipments from the factory will be received through year 2015, with the next expected in early February.
It will be a while for us to catch up with the anticipated interest in this tube, so please be patient and watch for future announcements.


June 15, 2015 Update
In addition to our March 1 update, we have been testing each production run for quality and longevity, and will start shipping from our latest batch by June 29. All indications are that these new RF PARTS brand tubes are very much equal to the American Made Cetrons. Customers with orders on file will be contacted (in order of date entered) to verify shipping information, charge card numbers, etc. There are not as many tubes this time that we had hoped for, but we are promised larger production runs by summer's end. As we near the end of summer, please watch for update as to when new orders will be accepted. Thank You for your patience in bearing with us,
Best Regards, Merit W6NQ
572B

572B history, and status (PDF)
By: Merit Arnold
Uploaded 12-1-2014

EXISTING 572B CURRENTLY ON THE MARKET
Since 1994, the Shuguang factory in China has produced the 572B, ceasing production in 2013.
The Shuguang tubes we see available on eBay are believed to be the returns
from RF PARTS and Ameritron that did not meet spec
There are no products matching the selection.