572B Tubes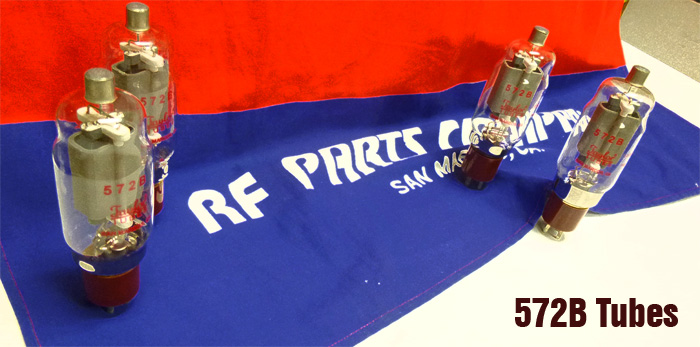 When we have stock, the tubes will show up below and will be able to be added to the cart for purchase. If there are no tubes below, then we are out of stock.

Updated March 1, 2015
PLEASE READ FULLY BEFORE CALLING
GOOD NEWS!
THE NEW RF PARTS 572B TUBE HAS ARRIVED.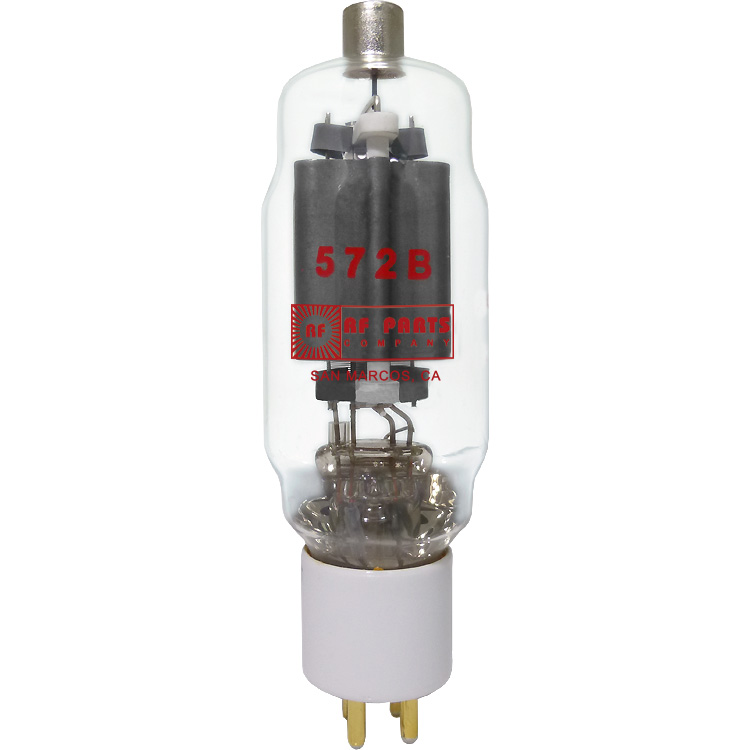 RF PARTS will not accept new 572B orders at this time.
As we have stock available, it will show up on our website.
It is there where you will place your order for 572B tubes.
Until further notice, RF PARTS will not accept back orders for this item.
March 1, 2015 Update
We started shipping from the second production run on February 25. Unfortunately, we will be unable to fill all orders on file. We are trying to get the factory to increase the build rate, but it will be a while before they catch up. As noted previously, as tubes become available, customers will be contacted in chronological order based on the date we accepted their order. Many will have to wait for future factory shipments. RF PARTS will give a 3 week notice as to when we can accept new online orders, no phone orders will be accepted. So watch this 572B page for more information.

We have been proof testing our first production run. Tests indicate that these new tubes compare favorably with the last U.S. made tube, the 1989 Cetron 572B. Tube dimensions and power gain seem to be carefully controlled during manufacture. RF PARTS will continue to do full lab testing on the 572B, as we do with all our transmitting tubes. Regular shipments from the factory will be received through year 2015. It will be a while for us to catch up with the anticipated interest in this tube, so please be patient and watch for future announcements.
572B Testing and Usage
A bit about our testing and use of the RFP 572B. Each production run goes through an extensive testing program at RF PARTS. We find the new tubes to be very rugged. One early buyer has put his results on eHam. However, I recommend operating transmitter tubes conservatively to improve their life span by observing correct filament voltage and drive. With high level speech processing of modern transmitters, tubes are driven harder. You should consider 300 Watts P.E.P. output per tube a maximum. Some amps will exhibit less output on some bands due to limitations in design. Watch your tuning, drive, and plate & grid currents. Ameritron rates their amps based on an absolute maximum rating, with no room for mistakes in tuning, overdrive, etc.
Drive requirements of the RF PARTS 572B may be a bit less than most 572B tubes (Svetlana & Shuguang). The higher gain RFP 572B should be used in amplifiers in good condition, with properly functioning parasitic suppressors. When using 811A, 572B, 3-500Z, etc., care should be taken to verify correct filament voltage. The result of high filament voltage is a significant reduction in tube life and increased emission, which in turn exacerbates parasitic oscillation issues with these amps. The old Dentron amps comes to mind as one brand that ran the filaments too high. When run at current line voltages of 120/240 VAC to 125/250 VAC, the filament voltage is sometimes as high as 7VAC. That will degrade tubes really fast. One fix is to add a some 18 gauge Teflon covered wire on each side of the filament bus ahead of the broadband choke. There may be some discussion on the internet regarding this method.
572B History, and Status (PDF)
By: Merit Arnold
PDF Uploaded 12-1-2014
EXISTING 572B CURRENTLY ON THE MARKET
The Shuguang factory in China has produced the 572B, ceasing production in 2013.
The Shuguang tubes we see available on eBay are believed to be the returns
from RF PARTS and Ameritron that did not meet spec
There are no products matching the selection.